A printable planner is one of the best-proven tools to help change the lives of many, especially if its canva editable planners . Well, If you are looking to set up and stick with your goals, whether it is business, academic goals,  or something else.
The planner works for you as a friend, coach, and partner. And help you to achieve different goals that have the potential to change your life. And the customization feature of the printer makes it unique and easy to use. Even it is a far easier task than a physical planner.
As you know ADHD is a mental disorder and the child and adults with ADHD face almost the same challenge. And mostly ADHD symptoms are related to time, planning, and response. Designing a planner system and habit can help in improving memory, punctuality, and lower stress.
ADHD medication will help with attention and hyperactivity, but an ADHD individual needs therapy for time management and other things. That's why most therapists recommend ADHD planner templates. An ADHD individual needs a paper planner to manage the things like schedules, timing, planning, goals syllabus, and due dates.
And the ADHD planner template bundle is one of the most favorable planners for ADHD conditions where you get more than 13 planners in one bundle for your different needs.
Here is the list of planners you get in this bundle.
Student Planner Template
Business Planner Template
Project Planner Template
Meal Planner Template
Budget & Finance Planner Template
Fitness Planner Template
Medical Planner Template
Mental Planner Template
Travel Planner Template
Essentials Planner Template
Cleaning Planner Template
Self-care Journal Planner Template
Reading Planner Template
$5.72

75 Hard challenge Tracker Template is a modern and unique type of tracker. It helps to track and manage your  75 hard challenges. And the challenges are only yours. This tracker is designed in such a way that individuals can target their hard challenges to finish and complete. And the idea behind the tracker is a better way of tracking challenges.
The tracker is customizable and editable. And the template is the coolest and the most valuable that will help you to finish your goals. It has the potential to help in performing better.
And the 75 hard challenge template is a bundle of planners including
Daily Tracker
Food Journal
Calorie Counter
Meal Planner
Workout Routine
Weekly Workout
Daily Journal
Healthy Food Checklist
Before And After
Progress Tracker
Measurement Tracker
Reading List
Shopping List
Weight Tracker
$2.64

A printable teacher planner is a perfect tool to help teachers to manage their timetable, study planning, Professional development, and remind important dates and workload. This teacher planner has been specifically designed to help a busy teacher's mind.  As the pressures on teachers continue to grow with increasing class sizes, it is a big task to meet the standards set by governing bodies.
Every class has its own criteria, Schools have their own targets, this planner is more helpful when teachers assess their students' homework.
The planner is editable and the teachers can make changes as per the school's own policies and incorporate their own ideas to boost growth.
This teacher planner has been developed in such a way to support efficient lesson planning, that teachers can focus on the content they deliver to students. And this is a bundle of planners where you get plenty of options included as mentioned below for greater outcomes in a structured approach:
ersonal Information
Calendar
Class Schedule
Parent Contact
Daily Plan
Weekend Notes
Yearly Notes
Passwords Registration
Teacher notes page
$2.64

A student planner or study planner is a nice tool that helps in time management, increases the productivity of the students, reduces load stress, and organizes all the work they need to do in the whole week, semester, and academic year at school. And it also helps to track achievements, promote communication, and increase awareness and responsibility of the students.
This student's planner is developed in such a way that It makes it easy for the student to plan, schedule, and set targets for school and study to stay well organized.
The student planner is very usual to get students into the habit of keeping on top in terms of assignments, and all the work they have to do.
Although the traditional physical planners still remain useful today, the school's environment is now more digital-based. And the benefits of a digital planner align and surpass the benefits of a physical planner.
This student planner comes with a bundle of planners as mentioned below which makes it useful and valuable for every student. Find the list of planners as follows:
Study Planner
Monthly Goal
Weekly Planner
Monthly Planner
Semester Overview
Class Schedule
Book To Buy
Assignment Planner
Assignment Tracker
Exam Time Table
Assigned Reading
Goal Tracker
Notes
Course Overview
Course Overview
Class Information
Home Work
Study Reflection
Textbook Budget
Reading Log
Course Materials
Chapter Summary
Group Project Plan
Project Due Date
Formula Cheat Sheet
Terminology
Assessment List
Vocabulary List
$2.64

In this busy world often we care more about others but less about self. And in our daily routines program, we miss self-care activities.
The self-care journal opens new ways to take stock every day of where you are and how you are feeling. And you take stock of your own personal goals.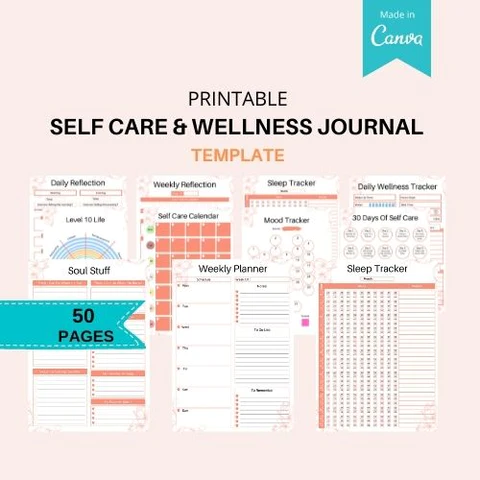 It helps you to write out your goals and the action steps you are going to take for achieving them. It is so important to record each day and the process you are making to advance your journey.
This planner will permit you to look back and see what is working and where you need to focus more. you can also write out your journaling, checklists, and intentions.
It has the potential to set up such areas as Mind, Body, Personal, Finances, Career, and Relationships.
These are the areas where everyone needs to focus when thinking about self-care and wellness.
The self-care & wellness journal comes with 50 Planners as follows:
Daily Planner
Daily Reflection
Weekly Planner
Weekly Reflection
Weekly Tracker
To-Do List
Habits Tracker
Self Care Calendar
Monthly Goal
30 Days Of Self Care
My Bucket List
A Letter To Myself
Self Care Goal
Self Care Routine
Fav Skincare Product
Self Care Ideas
Sleep Tracker
Skin Care Routine
Fitness Tracker
Self Care Checklist
Meditation Tracker
Gratitude Tracker
Daily Affirmation
Daily Wellness Tracker
Period Tracker
Mood Tracker
Vision Board
Weekly Meal Planner
Monthly Meal Planner
My Happy Place
Therapy Notes
Daily Journal
Water Intake
Meditation Log
Negative To Positive
Notes 2 Page
Favorite Quotes
Level 10 Life Goals
Level 10 Life
Positive Affirmations
Daily Gratitude
Gratitude Journal
Monthly Journal
Weekly Wellness
Anxiety Log
Yearly Overview
Let's Analyze Our Triggers
Soul Stuff
Appointment
$2.91

The PCS binder for military templates is the most efficient and effective way of keeping things organized for military families and their moves.  As you know Every PCS move is different for every military family. This is the best tool to manage things like dates, planning, and all types of documents.
This template has the potential to make military family life easier by helping to manage every move such as Moving Documents, medical records, academic records, budget, and much more. The template includes 9 planners as follows:
Financial Document
Moving Document
Date & Planner
Checklist
Important Document
Military document
Medical Document
Housing Document
Travel Document
$3.71

We can say this, a family planner is a place where anyone can reserve and manage all records of the family related to health and medical.
The medical planner is the need of everyone and there is no choice to choose or not. As maintaining the health of the family is one of the big concerns and responsibilities.
It lowers the burden on the caregiver and guardian. And For health-conscious people, especially in such a pandemic, the uses of the  Family Medical Planner were high.
The Family Medical Planner is very useful in providing better care for our family and managing our health. It keeps track of medical-related bills.
The family medical bundle templates cover more than 50 planner templates as follows:
Detailed Contact
Contact List
Medical Contact
Family History
Medical History
Medication History
Medication Log
Doctor Visits
Doctor Notes
Lab Work
Medical Spending Record
Immunization Record
Child Information
Blood Sugar
Blood Pressure
Eye Care Visits
Health Insurance
Notes
Weekly Notes
Checklist
Basic Information
Medical Information
Emergency Information
Employment Information
Allergy Log
Medical Appointments
Surgical History
Medication Tracker
Appointment Calendar
Medical Expenses
Sleep Tracker
Tablets / Supplements Tracker
Period Tracker
Health Checkup Log
Mood Tracker
Personal Medical History
Appointment List
Dental Check-Up Log
Vaccinations Record
Hospital Visits
PMS Symptom Tracker
Emergency Contact
Teeth Cleaning
Daily Habit Tracker
Triggers Tracker
Medical Insurance
Illness Tracker
Appointment Tracker
Symptom Tracker
$5.30

A project planner is an essential part of any project toolkit. It helps a business owner to save time, money, and resources.
As the project structure keeps constantly shifting, in this case, the project manager works as a savior and keeps the project up.
It is also called an execution tool that empowers individuals, and organizations to manage projects in real-time and perform better.
It is life-changing for many. The project planner helps in setting up a static timeline and focusing on action or business goals. It allows any individual, team, and organization to plan, manage, track and report on projects to help move faster and achieve more.
The planner template is designed in such a way to break down large project goals into smaller and actionable steps. it outlines what needs to be done, with a proper timeline, and fixes responsibilities. It is a nice idea to meet the expectations and improve transparency, and deliver perfectly. And the template also helps in working with multiple tasks at the same time.
The project planner is available with a bunch of sub-planners as mentioned below:
Task List
Monthly Goal
Monthly Plans
Project Budget
Project To-Do List
Notes & Ideas
Weekly Plan
Goal Action Plan
Project Index
Project Team
Project Expenses Tracker
Project Timeline
Project Overview
Yearly Project Planner
Project Step Tracker
Goal Action Plan
$2.91

The need of life, we must be healthy not only physically, but also mentally. It is just being in the right mind always to do the right things and take appropriate decisions that make a huge impact in the future. Mental health can't be overlooked and it's as important as physical health.
And those who are suffering from mental health issues are failing to maintain a peaceful life. Yes, It can lead to serious concern.
The effective part of mental health treatment is to make a concrete plan. The mental health professional advises constructing a treatment plan that has the potential to achieve goals.
The mental health planner is a set of written instructions and records relating to the treatment of a mental condition.
A good mental health planner includes the patient's personal information, activity, present concerns, strength, objectives, progression details, and much more. And the planner worked as a reminder and motivational tool.
You find the below-mentioned pages with this mental health planner.
Habits Tracker
Sleep Tracker
Water Tracker
Reading Log
Daily Journal
Daily Planner
Anxiety Log
Monthly Planner
Monthly Reflection
Meditation Tracker
Period Tracker
Letter Of Forgiveness
Self Care Tracker
Notes
To-Do List
Manifestation Worksheet
Important Contact List
Symptoms Tracker
Exercise Tracker
My Bucket List
Gratitude Log
Inspirations List
Sensation Record
Favorite Affirmation List
Food Diary
Overcoming Limiting Beliefs
Challenging Thoughts Worksheet
Worry Exploration(2 pages)
Self-Esteem Worksheet
Mindfulness Worksheet
Acceptance Worksheet
Remember To Myself
My Main Goals(2 pages)
My Safety Plan
Deep Breathing Record Form
Annual Goal
Anxiety Tracker
Problem Solving(2 pages)
Coping Step
Stress Relief Coloring Page(10 pages)
Goal Setting
Doctor Visit
Reflections
Survival Planner
Daily Affirmation
Mental Health Checklist
Bullet Journal
Health Journal
Health Resources
Positive Thoughts
Workout Log
Gratitude
My Soul Connections
Thinking Patterns
Positive Experience
Sleep Journal
Mental Check-In
Fighting Fear
Anxiety Worksheet
Mindfulness Wheel
List Of Emotions
Grounded Breathing Technique
Understanding Trigger
Thoughts Tracker
$4.20

In simple words Meal planner is a tool to manage the planning for meals for the day, week and month. It maintains the required nutrition that should take everyone to be healthy. It Is seen that Many individuals and families face extra stress around the mealtimes after a busy day.
A meal planner can help you and your whole family. To Plan to eat wholesome meals, and plan a night out, Plan every snack and meal, or simply plan your lunches for the week.
The meal planner helps to save time, and money and have more control over food choices and diet. This meal planner includes the following pages that are mostly advised by the dietician, doctors, and therapist.
Daily Meal Planner
Weekly Meal Planner
Monthly Meal Planner
Grocery List
Shopping List
Recipe Planner
Freezer Inventory
Fridge Inventory
Pantry Inventory
Workout Log
Hydrate Tracker
$2.64

Reading Planner is the best tool for readers that track reading strategy for the week, month and year. These reading planner pages help you plan to read books as per your choices and track progress to finish reading goals. And it kept up the reading habit.
Like any other planner, it provides and maximizes the value, enjoyment, and satisfaction you get from your reading. It Keeps you in a lifelong learner mindset and Keeps you disciplined in your reading.
A reading planner helps to guide your reading efforts and keeps you from stagnating or always choosing the path of least resistance. It keeps you motivated to wake up early and stay on track and also helps to concentrate on goals. and meaningful.
The reading planner includes:
Favorite Books
Favorite Quotes
Favorite Author
Book To Buy
Book To Read
Reading Log
Reading Challenges
Reading Tracker
Book Releases
Notes
Book Review ( 2 Pages )
Books To Read
Books Wishlist
Books Shelf
Reading Tracker In Minutes
Book Series
Habit Tracker
Book Summary
52 Weeks Of Reading
Reading Goal Checklist
Books By Month
Pages By Month
Reading Tracker
My Library
Currently Reading
Collections
Library Book Tracker
Abandoned Books
$2.91

Emergency binder template can be a game-changer for an emergency. It is a point of an excellent collection of information you might need in case of an emergency. It can help you in natural disasters such as a fire, flood, tsunami, or any other emergency that might damage your information.
An emergency binder can help you in a sudden incident or disaster. This emergency binder will have an amazing collection of information that works for your situation. It can be customized as per requirement.
This template is included with the below pages.
Medical Template
Home Details Contact Template
Admin Template
Insurance Template
Preparation Template
Notes Template
Finance Template
$3.39

puppies are the same as other animals and they learn from their moms. But when you take it early you need to be their leader and trainer. People try their own way to train puppies. The puppy training planner can be the best coach for your puppy.
This is helpful to set a training schedule and guidelines to help your puppy grow, develop, and learn good behavior just sitting at home. It is helpful to  shape them so that they make puppies perfect.
The puppy training planner includes the following things.
Training Log
Food Record
Vaccinations
Food Sensitivities
Weekly Notes
Training Skill
Growth Tracking
Toilet Training
Vet Notes
Pet Spending Record
Detailed Contact
Quick Contacts
Daily Tasks
To Do List
Notes
Puppy Information
Pet Chores
New Pet Checklist
Food List
Medical Record
Favorite Moments
Training Log
Weekly Training
Flea, Tick & Deworming Tracker
Service Dog Training
Daily Log
Grooming Log
Walking Log
Checklist
Vet Visits
Training Record
Socialization Checklist
Teeth Cleaning
Command Dictionary
Walking Tracker
Puppy Growth tracker
Likes & Dislikes
Bucket List
Feeding chart
Expenses Overview
Health History
$2.64

The meeting planner templates provide an easy mode to manage items to keep meetings or events on the schedule. The idea behind the use of a template is to gather any type, from board meetings to project briefings to school, office, and other functions.
It is editable as per your requirement. And the format is also available for specific events such as multiple meetings and conferences or other events.it is flexible which helps to keep meetings on track.
Meeting Notes
Meeting Minutes
Weekly Planner
Task List
Phone Call Notes
Password Tracker
Monthly Planner
Agenda
Action Points
Goals
Project Planner
Project Timelin
$3.28

Anxiety journal is highly recommended as a stress-management tool by the therapist. The journal planner is designed in such a way that can help to reduce anxiety, bad feelings, distress, and increase well-being.
People try many ways to get the benefits. The Anxiety journal can begin daily, weekly, or as per need when the stress gets to be too intense.  and you can choose any one method that works for you. Journaling is one of the powerful tools for examining and shifting thoughts.
The anxiety planner includes the following pages that are most useful.
Anxiety Journal
Daily Writing Prompt
Brain Dump
Random Thoughts
Word Of The Day
Dream Analysis
Safety Plan
Task Planner
To-Do List
Habits Tracker
Notes
Sleep Tracker
My Future Goals
Daily Journal
Unwind & Relax
Weekly Reflection
Challenging Thoughts Worksheet
My Bucket List
Self Care Goals
List Of Positive Thoughts
Mood Tracker
List Of Emotions
Dear Future Self
Medication Tracker
Yearly Goal
Thoughts Transformation
Problem Solving
Sensation Record
Mindfulness Wheel
Sitting Boundaries
Monthly Planner
Appointment Tracker
Workout Log
Pampering Checklist
Daily Habit Tracker
$3.28

The gratitude journal is a tool to keep track of the good things in life. No matter how challenging and upsetting life you feel, there is still something to feel grateful for. And regularly journaling about the good things in anyone's life can help to strengthen.
It's quite simple to start, write down the things you are thankful for daily. The gratitude planner is helpful to write with the following pages.
Daily Gratitude
Daily Reflection
Weekly Gratitude
Grateful Today For
Gratitude Tracker
Gratitude Journal
Monthly Reflection
Monthly Gratitude
Yearly Reflection
Morning Gratitude
Evening Gratitude
To-Do List
30 Days Challenge Tracker
Acts Of Kindness
Gratitude Notes
Gratitude Bank
Gratitude & Mood
Gratitude Jar
5 People I'M Grateful For Today
Giving Thanks
Affirmation
Vision Board
Gratitude Worksheet
Daily Positivity
Habit Tracker
Gratitude Challenge Tracker
The Small Things
$5.07

Success in life is all about achieving goals. The sounder and quickly you can accomplish new peaks the happier you can be. That's why setting up a goal and achieving targets have become such significant parts of everyday life.
This goal planner template can help individuals to become more organized and focused on their primary goals. It is helpful to make constant progress towards new short-term and long-term triumphs. These goal-setting planners make tasks easily manageable and simple.
The goal planner bundle includes 34 templates that are most useful for anyone.
Monthly Intentions
End Of Year Reflection
Goal Planner
Monthly Reflection
Weekly Intentions
Weekly Reflection
Weekly Goal Plan
Daily Goal Plan
30 Day Goal Tracker
Notes
Monthly Goal Plan
Yearly Goal Plan
Goal Review
Vision Board
Quarterly Goals
Goal Setting
Annual Goal
Bucket List
Monthly Planner
Personal Reflection
Weekly Planner
Income Tracker
Daily Priority List
Quarterly Bill Tracker
Expenses
Year At A Glance
Monthly Schedule
Bills
Task List
Habits Tracker
Weekly Schedule
New Year's Resolution
Reading List
Goal Progress
$4.32

A bullet journal ( BuJo) contains sections where the individual logs daily to-dos, jot down notes, keep a monthly or weekly calendar, track their physiological and mental health, and document short- and long-term goals.
A bullet journal can help you to relax and handle your to-do list. It has the potential to switch individuals to the next phase of their life.
The process of bullet journaling is funny and creative but thoughtful. In addition, the simple sticking points, like an index and a calendar, and the contents of the journal make it unique and joyful. It helps in living an excellent life.
Here is the list of templates you got with a bullet journal.
Monthly Planner
Daily Gratitude
Inspirational Quotes
Daily Reflection
Daily Writing Prompt
Brain Dump
Word of the day
Random Thoughts
Monthly Budget
TV shows to watch
Sleep Tracker
Goal Tracker
Level 10 Life
Monthly Review
Mood Tracker
Weekly Plan
Key Page
Habit Tracker
Books To Read
Birthdays
Movies To Watch
Year In Pixels
Study Planner
Course Overview
Assignment Tracker
Grade Tracker
Saving Tracker
Bill Tracker
Reading Log
Body Measurements
Places To Visit
Anxiety Tracker
Water Tracker
Grocery List
Yearly Overview
Monthly Calendar
Monthly Goals
Month At A Glance
upcoming expense
Income Tracker
Monthly Expenses
Monthly Bills
Gratitude Journal
Travel Journal
Fitness Goal
Vitamins & Supplements
Workout Schedule
Weekly Meal Planner
Notes
30 Day Challenge
$7.65

Whether you live in an adorable apartment or a sprawling house, it's easy for our homes to stash clutter. Organize your home with a planner that helps you to clean each and every space of your house.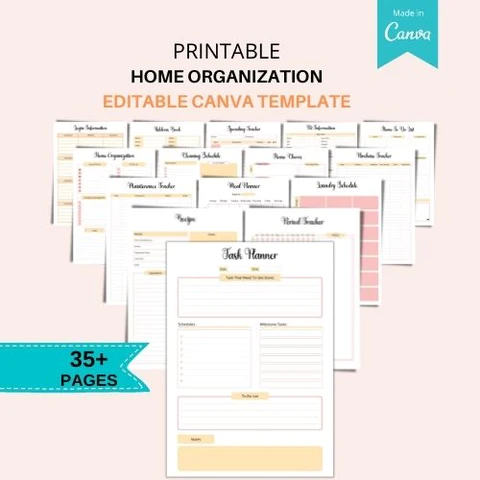 It is very simple to set up with small steps to declutter your kitchen, storeroom, bedroom, dining room, or empty out rooms and get everything organized.
The home organization planner helps to do tasks for different parts of the home. You can take each of them one by one as per your time. If you feel occasionally chaotic, the following home organization planner is just made for you.
Here is the list of templates you get with this home organization planner.
Home Organization
Home To-Do List
House Chores
Cleaning Schedule
Maintenance Tracker
Purchase Tracker
Meal Planner
Laundry Schedule
Recipe
Period Tracker
To-Do List
Task Planner
Travel Tracker
Habits Tracker
Contact Information
Notes
Personal Info
Dates To Remember
Bill Tracker
Declutter Checklist
Grocery List
Indoor (Home Maintenance)
Family's Favorite Recipes
Monthly Planner
30-Day Challenge
Login Information
Pantry Inventory
52 Week Food Storage Plan
Inventory Information
Workout Log
Vitamins & Supplements
Food Diary
Home Maintenance Log
Spending Tracker
Pet Information
Address Book
Travel Bucket List
Babysitter Information
Yearly Income & Expenses
$10.90

Everyone is aware of fitness but still, all are not fit. See Why? There is a simple answer to that, they are not able to monitor and track properly.  That's it. Whether it is a weight loss program or medication, everything needs to be tracked.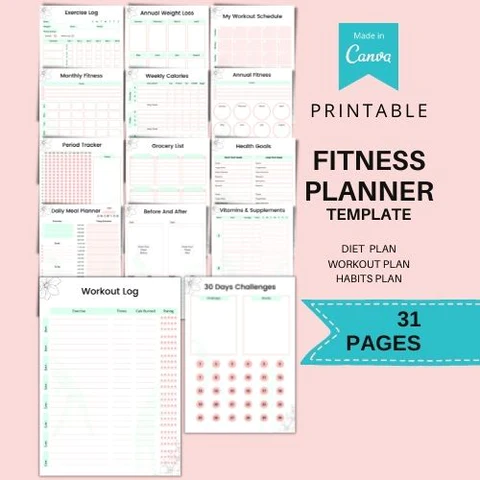 You need to calculate and understand whether your routine is really helping you.
A fitness planner is a tool that helps you to overcome the issues you face during fitness planning. Using a fitness planner will help to remind you of your fitness activities.
It also helps to record your workouts and daily nutrition to achieve your goal.
The fitness planner is a bundle of pages that are most useful for any fitness planning.
Fitness Goal
Daily Fitness Planner
My Exercises
Habits Tracker
Vitamins & Supplements
Before And After
Daily Meal Planner
Measurement Tracker
Workout Log
30 Days Challenges
Sleep Tracker
Period Tracker
Grocery List
Weight Tracker
Annual Weight Loss
My Workout Schedule
Weekly Meal Planner
Exercise Log
Strength Training Tracker
Monthly Step Tracker
Weekly Weight – In
Annual Fitness
Journal
Work Out Plan
Monthly Fitness
Health Goals
Pounds Lost ( 2 pages)
Weekly Calories ( 2 pages)
$2.91

A cleaning planner template is a very useful tool to clean your home, or office, and manage things properly. And also the best way to stay on top of our household chores and to schedule different tasks on different days of the week.
Weekly cleaning planner breaks things down into nice parts of manageable chunks. It makes the task of cleaning your house simpler and easier.
The planner comes with the following pages:
Daily Cleaning Planner
Weekly Cleaning Planner
Monthly Cleaning Planner
Semi-Annual & Annually Cleaning Planner
Seasonal Cleaning Planner
Aug 2021 To Jul 2022 Monthly Cleaning Schedule With Calendar
Notes
To-Do List
Contact List
Monthly Budget Tracker
Expense Tracker
$2.64

Maintaining Health is the primary task for everyone. The health planner is designed in such a way that anyone can track health-related issues. A health planner is a great tool to give you an insight into your health and wellness.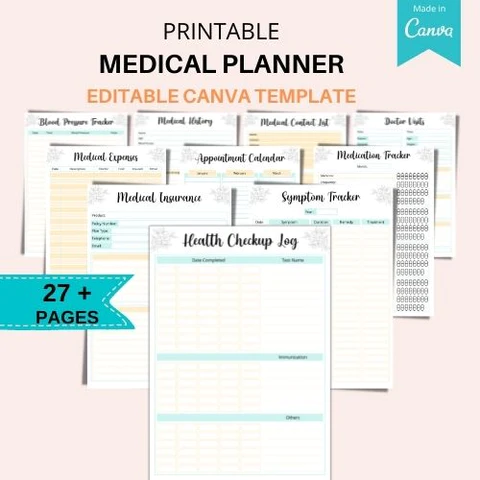 The planner has the potential to record different aspects of your health, increase your health scale, and perform better. you record different aspects of your health. It also helps you to understand your medical conditions better.
And the planner includes the following helpful pages:
Doctor Visits
Medication Tracker
Appointment Calendar
Medical Contact List
Medical Expenses
Medical History
Blood Pressure Tracker
Sleep Tracker
Period Tracker
Daily Habit Tracker
Appointment Tracker
Appointment List
Notes
To-Do List
Appointment Notes
Personal Medical History
Mood Tracker
Hygiene Tracker
Immunization Chart
Health Checkup Log
Triggers Tracker
Symptom Tracker
Medical Insurance
Family Medical History
Illness Tracker
Tablets / Supplements Tracker
Dental Check-Up Log
$2.64

Traveling is the best way to spend your vacations with family, friends, and partners. but an excellent trip requires attention and even a great level of self-discipline. Otherwise, your small mistakes will turn your journey into a stressful experience.
The travel planner is designed to help in booking tickets, accommodations, activities, and itineraries to make your journey enjoyable.
And the planner comes with the following pages:
Accommodation
Checklist
Packing List
Foods To Try
Accommodation Research
Places To Visit
To-Do List
Daily Itinerary
Trip Overview
Transportations
Budget Planner
Saving Tracker
Travel Journal
Notes
Flight Information
Travel Bucket List
Monthly Calendar
Souvenirs To Buy
First Aid Kit
Trip Activity
Emergency Contact List
Journey Roadmap
Travel Plans
Expenses Tracker
$2.64

Life is full of challenges. And you need to find a way to live with these challenges. The gratitude journal is one of the best ways to keep track of the good incidents in life. Yes, there are highs and lows but a good habit makes huge life changes.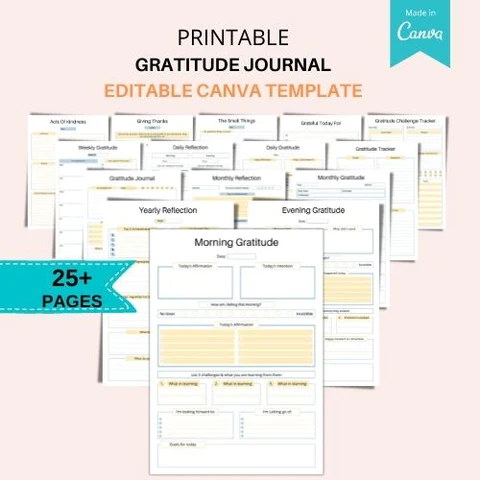 As it is said a thousand-mile journey starts with a step. You can store your good things with the help of a planner daily, weekly and monthly.
The gratitude planner comes with the following pages:
Daily Gratitude
Daily Reflection
Weekly Gratitude
Gratitude Journal
Monthly Reflection
Monthly Gratitude
Gratitude Bank
$2.91